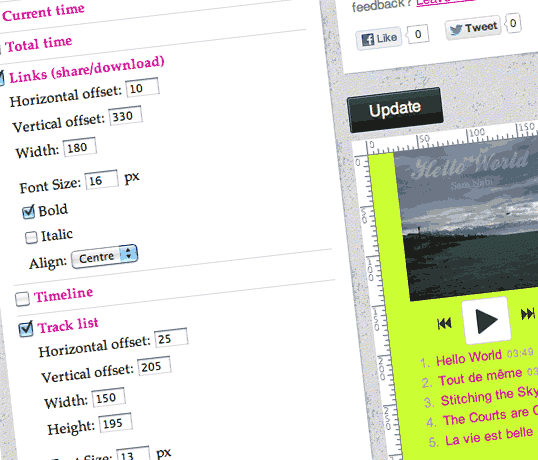 Now it's easier than ever to fine-tune your Bandcamp players
Is your player not working? In October 2012, Bandcamp changed the way they handle layout files. If you created a custom layout prior to this time and it's not working, you'll have to make a new one, I'm afraid.
Back in 2010, I created a handy little app to generate JSON code for the Bandcamp API. The API lets you customise your bandcamp players, offering detailed options beyond the standard five or six layouts.
Now, I've completely rewritten the app to make it faster and easier to use. You don't need to know a thing about JSON anymore, nor do you need your own server to upload the layout files. It's just point, click, copy, and paste.
Having complete control over the look and feel of your embedded Bandcamp players has never been easier. So head on over and try it out!
And by the way, you can generate players for any album on Bandcamp, including big name artists like Sufjan Stevens and Coeur de Pirate. Awesome, eh?
Sam Nabi