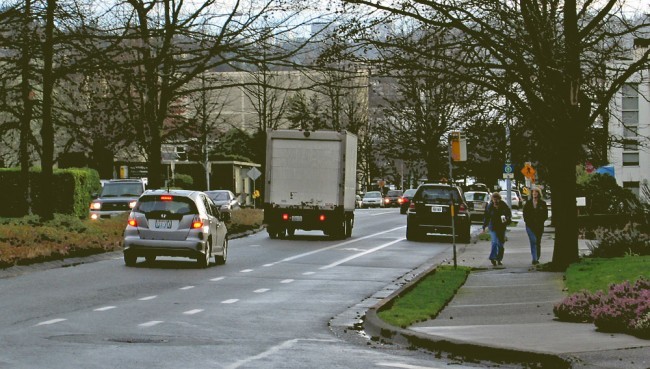 Road tolls are a barrier to complete streets
I took my bike out of hibernation yesterday and rode from my home in Kitchener to the University of Waterloo. The commute was refreshing, after a season of being beholden to the bus schedule. Along the way, I stopped off at the bank and ran a couple errands in uptown Waterloo. This is the kind of flexibility I was missing over the winter. Biking season is here, and I couldn't be happier.
But, the roads. Oh, the roads! I've never fully appreciated what a freeze-thaw cycle can do to asphalt, but boy was it obvious yesterday morning. The familiar potholes had grown deeper and wider, and unexpected new cracks had formed during the winter. The stretch of Waterloo Street from Roger to Moore, which used to be a tad bumpy, was nearly unrideable yesterday. I may have to plan out an alternate commuting route.
The immediate reaction is obvious: the city needs to fix these roads. But it's more than that. As a cyclist, I want the city to fix the roads. Even as a bus rider, I appreciate a well-maintained road. There's nothing worse than trying to remain standing on a lurching, jolting bus ride.
We tend to automatically think of roads as "infrastructure for cars", which factors into debates about investing in transit. This dualism is not helpful and it's absolutely not accurate. Bike lanes and bus bays are absolutely part of the road, and planners need to think about the road network as intermodal infrastructure if we want to encourage alternative forms of transportation.
This is why I'm not sold on the idea of congestion charges or road tolls in urban areas. These measures reinforce the perception of automobiles as the primary users of the road. Because motorists pay a user fee, they feel entitled to a road system that puts their needs ahead of other modes. These schemes have a singular focus: improving automobile congestion (i.e. timing traffic lights, increasing the rate of through-traffic, removing on-street parking). Such plans fail to accommodate cyclists, pedestrians, and mass transit.
A counter-argument might be that road tolls and congestion fees make motorists pay the "true cost" of the road and might encourage them to drive less. My counter-counter-argument would be: why should automobiles pay for the use of the road and not cyclists? Pedestrians? Transit riders? We all use the infrastructure. Let's look at it as a common good and plan for multiple modes. Designing and maintaining comfortable roads for all modes will get drivers out of their cars more effectively than user fees ever will.
FYI, there is a good discussion about this post happening on reddit, as well as in the comments below.
Sam Nabi