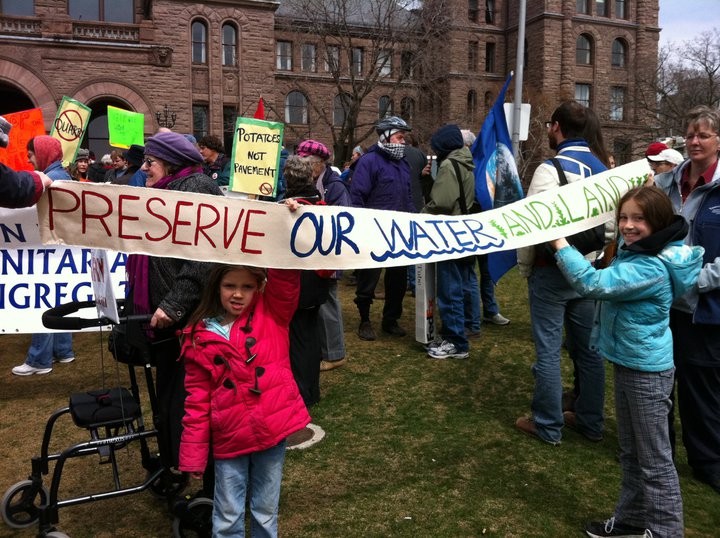 Speak now, or forever hold your peace
If you've heard about the Melancthon mega-quarry in the last few weeks, no doubt you've been asked to sign a petition or watch a YouTube video explaining what's going on. Essentially, some of the most fertile vegetable farms in Ontario will be dug up to make a strip-mine. Unless public opinion convinces her otherwise, the Minister of Natural Resources, Linda Jeffrey, will approve the project.
But the time window for official comments is closing fast. Midnight tonight is the last chance to voice your opposition. If you do so through the government's official submission form, that gives you the right to appeal decisions further along in the process (for example, if the decision goes before the Ontario Municipal Board). Basically, if you don't act now, you don't have the right to speak up later on.
This is more than just a petition. If you submit a comment on the government's environmental registry, Minister Jeffrey is required to consider it as part of the formal consultation process for this development application.
So here's the call to action. You have until midnight tonight (Sunday, July 10) to submit comments to Minister Jeffrey. Use the submission form on the government's website.
This is what I wrote. Feel free to copy it, or write down your own reasons for opposing the mega-quarry.
Though I respect the right of private enterprise to conduct its business freely, government has a responsibility to encourage the kind of economic development and urban growth that is consistent with the policies laid out in the Provincial Policy Statement, Greenbelt Plan, Growth Plan for the Greater Golden Horseshoe, and Metrolinx Regional Transportation Plan. Each of these documents encourage compact, intensified urban growth in southern Ontario by limiting sprawl. The suburban growth model of the last fifty years has produced inefficient infrastructure, environmental degradation, and the encroachment of residential neighbourhoods on fertile farmland. The aforementioned policy documents recognize this and set out policies to prevent it from worsening. The availability of cheap aggregate for greenfield construction has been a major factor encouraging suburban sprawl in the Greater Golden Horseshoe. The Melancthon mega-quarry would perpetuate this unsustainable development model, and would reduce the incentive for Ontario's municpalities to meet their intensification targets. The approval of the Melancthon mega-quarry would be a step backwards for Ontario's urban growth. Please heed the government's own policy documents, and refuse this application.
Sam Nabi