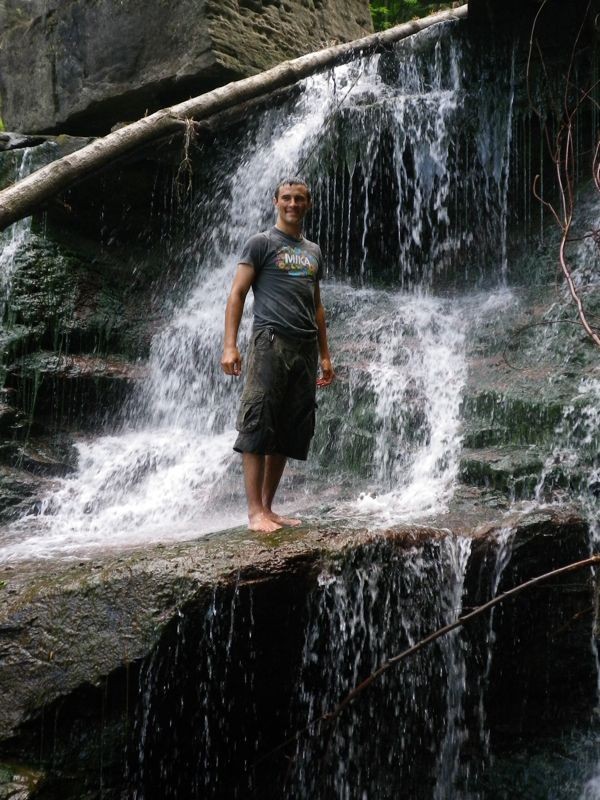 How green is your city?
I've grown to love Hamilton's parks, trails, hills, valleys, streams, trees and waterfalls. Last night, I went to a concert at the Ancaster Fairgrounds - basically a farmer's field at the edge of town. It was the opening night of the Festival of Friends, a weekend-long festival with music, pony rides, and deep-fried Mars bars.
When Dallas Green took to the stage, he puzzled over the Tourism Hamilton advertisement next to him. "Is this true? Hamilton's the waterfall capital of the world?". Raucous cheering answered his question. "Well, nobody ever told me about this. What, you just keep it to yourselves?" Apparently so.
Consider this my small contribution to casting off the old, grungy, industrial image of this great city. I live a short walk from King and James, the heart of downtown Hamilton. Unlike, say, Yonge-Dundas square or Union Station, the concrete here is tempered by mature trees, grass, flowerbeds and benches in Gore Park.
The Niagara escarpment, which contains the Bruce Trail, cuts right through the middle of the city. The impracticalities of developing buildings on a sheer rock face means that this strip of natural beauty has been more or less preserved, even in close proximity to a built-up urban area.
In the north end, Bayfront Park is filled with the sounds and sights of children playing, boats being launched, fishing rods, boom-boxes, joggers, and folks chatting. Biking through it the other day at sunset, I was struck by how similar the atmosphere was to my childhood vacations at Presqu'ile Provincial Park. No wonder Bayfront Park was named one of Canada's best public spaces by Spacing Magazine.
I've always found it funny how new suburban subdivisions aggressively market their forest-lined lots and proximity to a rural paradise where everything is green. Little do those prospective homeowners know that their precious vista to the hinterland will be razed and replaced by more tract houses in a matter of months.
If you want to live somewhere that actually protects its green spaces and makes them accessible, Hamilton's your city. I'll let the photos I've taken in the past few months speak for themselves. These were all taken within a 20-minute bike ride of my house.
Sam Nabi