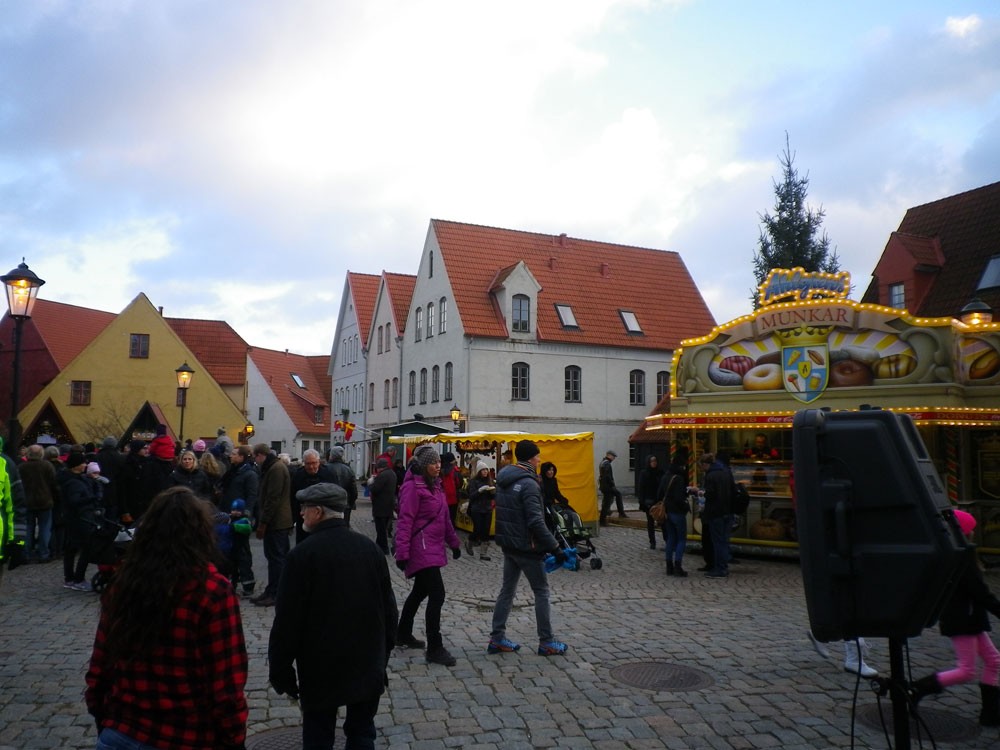 Jakriborg, the medieval suburb
After turning off the highway, we travelled for a couple of minutes down a dirt sideroad and arrived at the entrance. A man in a neon green vest waved us through a set of gates. It sure didn't look like a medieval town — all I could see were large sheet-metal storage sheds and, as we cleared the gates, a vast parking lot. However, past the sea of vehicles I could make out a jumble of pointed wooden roofs, typical of northern German architecture. So, I thought to myself, Welcome to Jakriborg.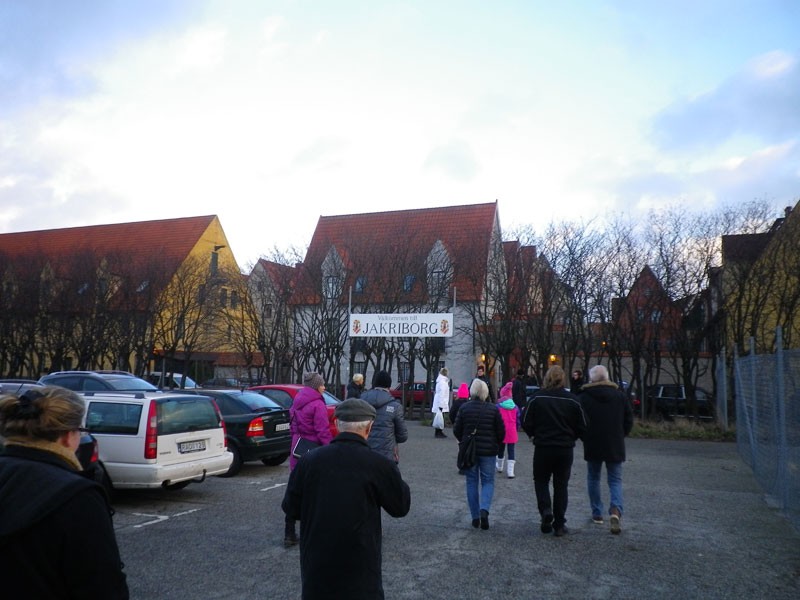 Entering the town was much like arriving at a theme park. Having left our car several hundred metres back, we walked across the pavement to a gap in the chain-link fence that separates Jakriborg from the parking lot. Guided by the smell of carnival food, we ventured forth into the bustling, festive atmosphere of an old-timey Christmas market — or at least a current-day incarnation of one.
Jakriborg is a small town in the south of Sweden, planned and built from scratch in the 1990s. Nestled next to the sleepy town of Hjärup, halfway between Lund and Malmö, it is the brainchild of Jan and Kristian Berggren. These brothers decided to develop a town with a small-scale medieval aesthetic as a response to the construction boom of soulless towers in the 1960s and 70s. It's worth noting that Jakriborg is built entirely on private land. The Berggren brothers own everything, which allows them to have tight control over everything from the design of buildings to who is allowed to hold demonstrations in the "public" square.
Taking its cues from Hanseatic architecture, Jakriborg is a nice place to visit — a quaint, nostalgic, master-planned oasis. Of course, true medieval towns had no such planning to guide their development, but they also had bubonic plague and feudalism, so I'm glad Jakriborg isn't attempting a completely accurate historical representation.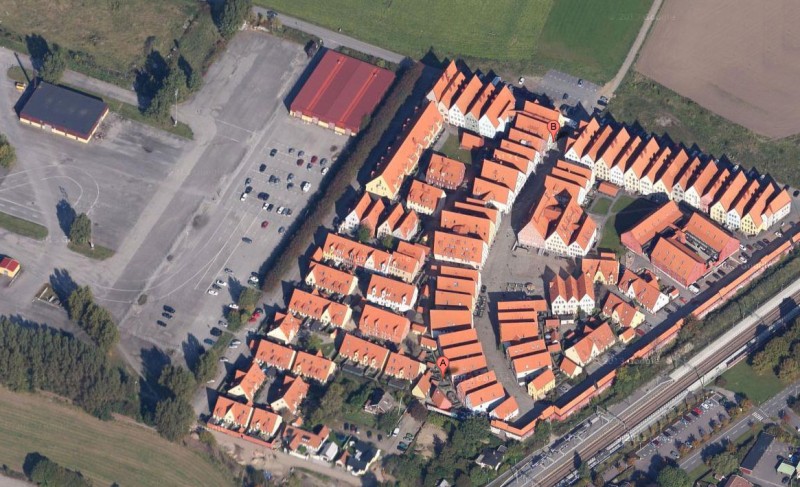 The Jakriborg Christmas market runs on the second and third weekends of December, attracting visitors from the surrounding metropolitan areas of Lund and Malmö. Thousands of people visit every year to buy Christmas gifts, admire the faux-German architecture, and entertain the kids. It makes for a fun day trip, wandering the cobblestone streets and cute little boutiques with the spirit of Christmas in the air.
As a viable town, though, I can't help but think that Jakriborg is failing. The first phase of construction covered an area of 11 hectares and brought in about 1,000 people. Although it has good train service to Lund and there are plans to open up better pedestrian connections to Hjärup, there just aren't enough jobs within Jakriborg proper to sustain a community.
Since cars are relegated to beyond the city walls, Jakriborg is a completely pedestrian-oriented community. This means it needs a critical mass of people, shops, offices, and industry in high enough densities to be economically self-sufficient. Sadly, it's not there yet. Without a solid core of people living and working in this town, it will forever rely on the boom-and-bust cycle of the Christmas market and summertime tourists.
Small business turnover is a large problem in Jakriborg. Although it wants to maintain a small-town, pre-industrial image, the town is too small and isolated for independent businesses to risk investing. A supermarket chain has taken over the role of butcher, baker, dairy, and greengrocer on the main commercial strip, Köpmannagatan. Although the architectural heritage of the building has been preserved to a degree, Jakriborg can't avoid the same retail giants as every other suburb — only this time, there's a different coat of paint.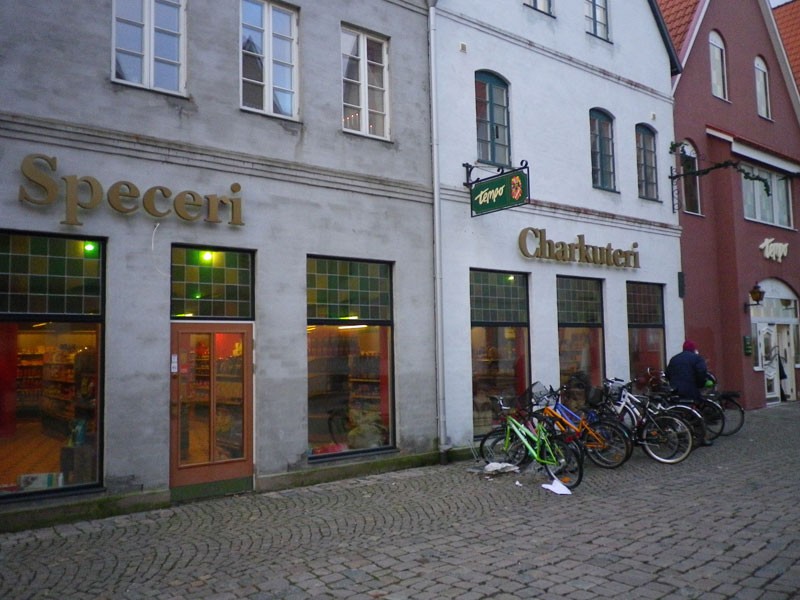 I actually decided to get my hair cut on the day we went to Jakriborg. The salon was located just at the south end of Köpmannagatan, close to the train tracks that divide Jakriborg from Hjärup. My hairdresser turned out to be quite talkative, so I peppered her with questions about life and business in Jakriborg. As it turns out, she and a friend started this business together less than a year ago, though they wouldn't be surprised if it went under in another six months. And her reason for starting a business here is the first place? She grew up in the area. Aside from childhood nostalgia, there's nothing tying her to Jakriborg, nor does it seem there's much incentive to invest in a business that isn't geared towards tourists.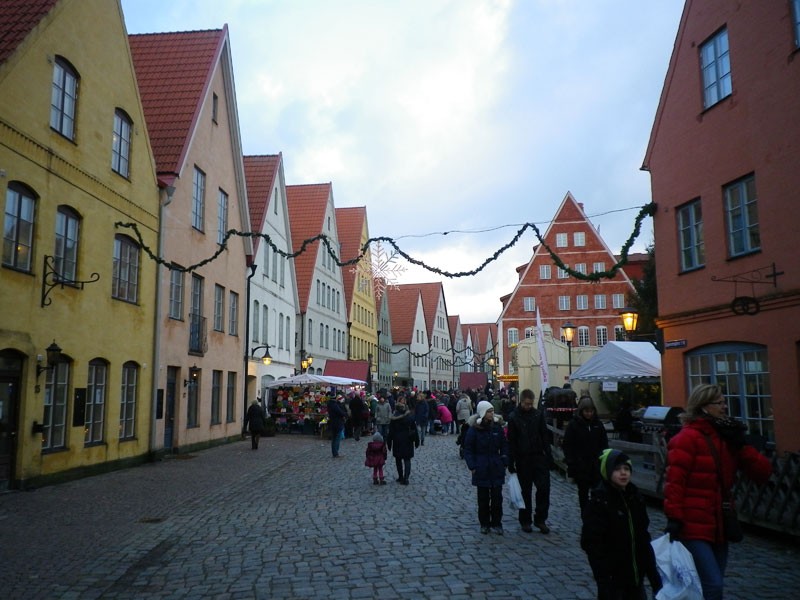 So how does a town like Jakriborg survive financially? It is endowed (or rather, endebted) with beautiful cobblestone streets and immaculate plaster-and-timber buildings. Its reputation as a Christmas tourism hotspot depends on this cheery, clean atmosphere — nobody wants to walk into a Dickens novel.
So far, the Berggren brothers have succeeded in developing a tourist attraction. But for Jakriborg to be successful in the long term, their task will be to plan a town that's big enough to sustain itself economically (without plunging into debt on the up-front infrastructure costs). Can they achieve this while maintaining private ownership of all the land? If a return to the medieval city is what they're after, perhaps feudalism is on the horizon after all…
Sam Nabi